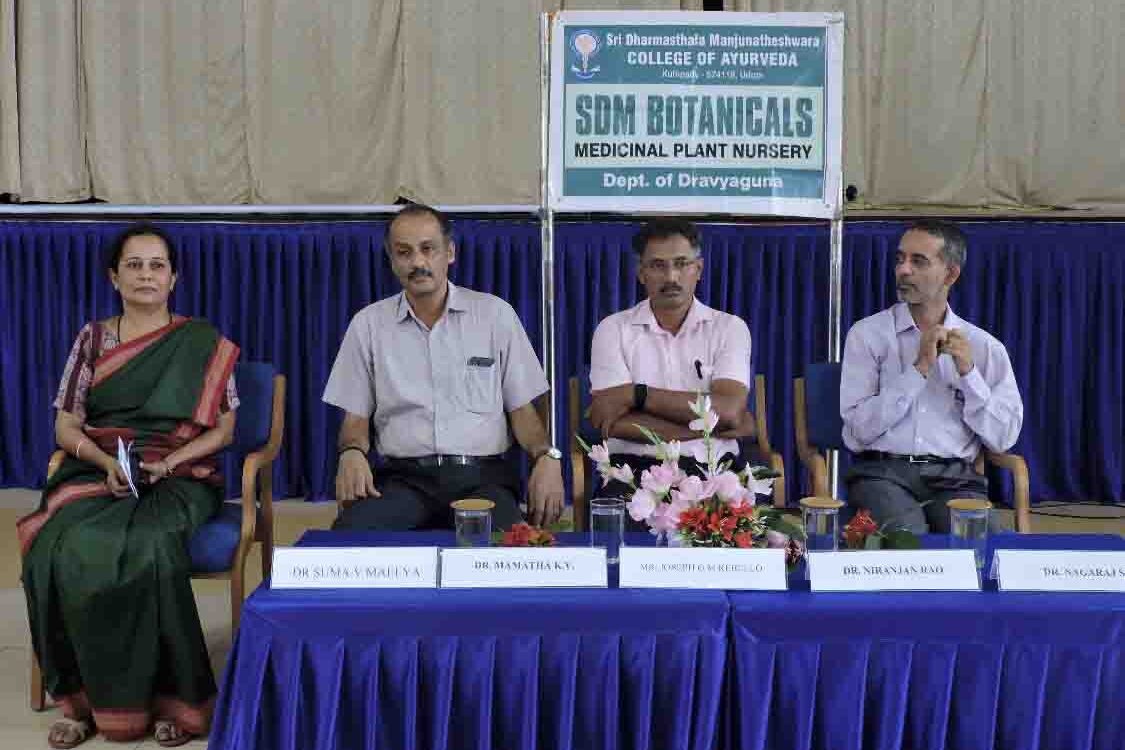 World Environmental Day Celebration – 2022
World environmental day was celebrated at SDM College of Ayurveda, Kuthpady, Udupi on 7th June 2022. The program was organized by Department of Dravyaguna Vijnana in association with Herb-garden committee.During whole day event medicinal plant saplings of Arjuna, Karanja, Putranjeeva, Ashoka, Twak, Muchakunda etc were prepared by undergraduate and post graduate students of Dravyaguna at college herb garden. Students have been given guidance about medicinal plant sapling preparation by faculty of Dravyaguna Dr. Suma Mallya and Dr. Nivedita Shetty. Importance of celebration of World environment day was depicted briefly to the students.
Afternoon guest lecture was organized. Mr. Joseph G.M. Reballo, environmentalist who explained about techniques of rain water harvesting and its importance to the gathered students. Dr. Mamatha KV, Principal; Dr. Nagaraj S, Medical Superintendent; Dr.Niranjan Rao PG Dean; Dr. Suma V Mallya, Head of Herb Garden Committeewere present during the event.
Function began with the invocation of God almighty. Dr.Suma V Mallya, Department of Dravyaguna welcomed the gathering. Guest of honor Mr. Joseph G.M. Reballo took a very interesting lecture on the topic "Rain Water Harvesting" stating the current status of annual rainfall in the country, drastic conditions of people affected by droughts, along with the techniques and importance of Rain Water Harvesting.
Dr. Mamatha. K. V, Principal, SDM College of Ayurveda, Kuthpady, Udupi honored the chief quest and in her Presidential address, stated the importance of water harvesting as nowadays getting pure water is rare and also updated the water harvesting technique adopted in our college campus . She concluded by saying the importance of water in our life.
Dr. Niranjan Rao, PG Dean, addressed the gathering and said that water harvesting is the need of the hour and the techniques explained by Mr.Joseph G.M. Reballo should be followed to prevent water scarcity.
In the end of the program Dr.Niveditha Shetty, Assistant professor rendered vote of thanks.