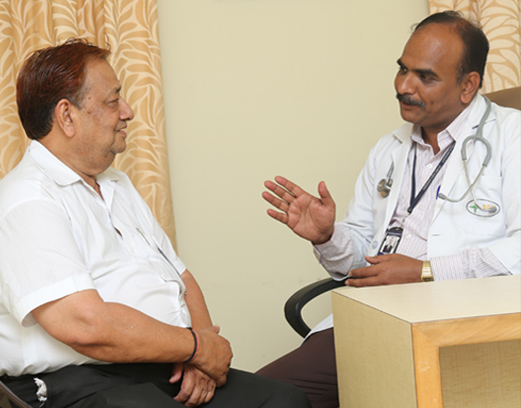 To be the major specialist service provider for the population
To improve the environment for patient and staff
Gaining the confidence in our care by giving trustful service
To work in collaboration with other specialties
To provide quick services to the highest standards
To provide an excellent patient experience
Services Provided
Unique rasyana chikitsa for chronic lingering diseases of nervous system viz Pakshaghta (Hemiplegia due to variety of causes of Cerebro Vascular Accident) Sarvanga Vata(Motor Neuron Disease, G.B Syndrome,Multiple Sclerosis) are best treated by evidence bases Rasayana preparation developed and provided by SDM Ayurveda Pharmacy
A Comprehensive approach in treatment of variety of skin diseases (Psoriasis, dermatitis, Eczema etc) aretreated with effective shodhana , shamana and rasayana chikitsa. Thus the theraupetic measures of proven efficacyhas attracted people in and around karnataka as well as outside nation.
Episodes of illness perpectuating for long , is a major problem observed in many patients suffering from Tamaka shwasa (Bronchial Asthma, Interstitial Lung Disease) and also Kasa(Chronic Bronchitis, Emphysema etc) and other illness of the respiratory system and allergies. The unit has expertised in providing evidence based treatment in such patientsby improving the deffence mechanism & definate end to episodic problem.
Digestive Tract victimized frequently due to present trend of delicious dishes. In a long run it may detrimental effect on gut leading to long standing illness such as amlapitta (Acid Peptic Disease) Grahani (Mal absorption Syndrome ) Ajeerna (Food Poisoning, Irritable Bowel Syndrome, Ulcerative Colitis, Chrons Disease). The extensive Research in this for last 30 years has proved efficacy of unique theraupetic approach of Takrakalpa,Ksheera Kalpa, Parapti Kalpa tc are made available by the department for the benefit of people at large.
Ambulation , a unique feature of humans may be restricting the joint in an professional activity of an individual . Autoimmunity , degeneration, & metabolic morbidity are medical explaination. Joint pain with restricted movement is the suffering . The department of Kayachikitsa established innovative approach of Ayurveda by way of Satmyikarana with unique procedure of Apatarpana Chikitsa.
Sexual Health is essential part of adult procreation & Recreational objective of sexual behavior may be effected due to variety of reason in current stressful life.Department of Kayachikitsa provide Variety of Vajikarana Treatment that improves sexual performance and increased fertility rate.
As the growth advances , urbanization in India after the independance has also caused many life style disorder , Diabetes Mellitus is one among them, having multiple systemic affliction including renal , cardiovascular , endocrinal and others which paves way for serious complication is best controlled by potent therapeutic medication having rejuvenating effect in rectifying pathology which are proved and practiced in the unit.
As the spectacles mount on the nose ,as age advances a  series of geriatric problem which cripples the individual. The department has kept many rejuvenating therapies which effectively negate the aging problem.