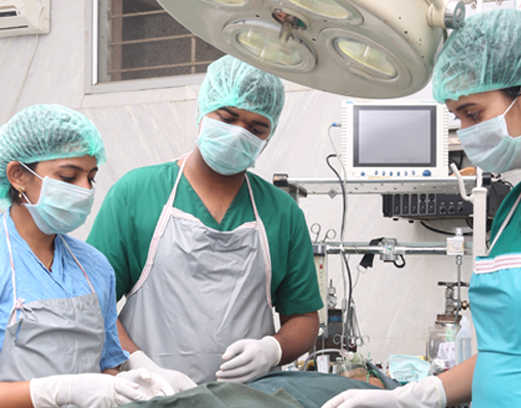 To establish the principles of Shalyatantra in a scientific, safe and effective manner in view of modern scientific medical knowledge
To establish a centre of excellence in the management of Ano-rectal diseases for the popularization of Kshara karma and kshara sutra treatments.
To establish a Pain clinic for the management of various musculo-skeletal disorders through Agnikarma.
Effective management of various cases of non-healing, chronic infected ulcers by the principles laid down in Shashtiupakrama.
To establish Jalukavacharana for the effective management of ulcers, skin diseases and gangrene.
To establish Gastroscopy as a diagnostic tool and a tool for assessing the therapeutic efficacy of various Ayurvedic formulation in the management of Acid-Peptic disorders.
Services Provided
Operation Theatres (O.T.)
:
Well equipped O.T is available for posted surgeries
On-call Anaesthetists for various surgeries
Well equipped Paramedical staff
Gastroscopy and colonoscopy:  for the diagnosis of various diseases and also a tool for the assessment of various therapies done in the hospital
OPD: 3 well equipped OPD specialized for the consultation of patients of general surgical diseases, Ano-rectal diseases and Colo-Rectal diseases
Minor OT:
Well-equipped Minor OT for management of Traumatic wounds
Equipped for daily dressing of wounds
For conduction of Agnikarma and Jalukavacharana
Departmental Offices:
Department Museum
Laboratory for preparation of various Kshara sutra
Facilities like Library for students and staff
Seminar Room with well equipped electronic gadgets are available for ongoing Post-Graduate teaching and training
Mannequins for training Post-Graduate and Undergraduate students in various surgical skills like suturing, bandaging, IV and IM injections, Catheterizations, P/R examinations etc