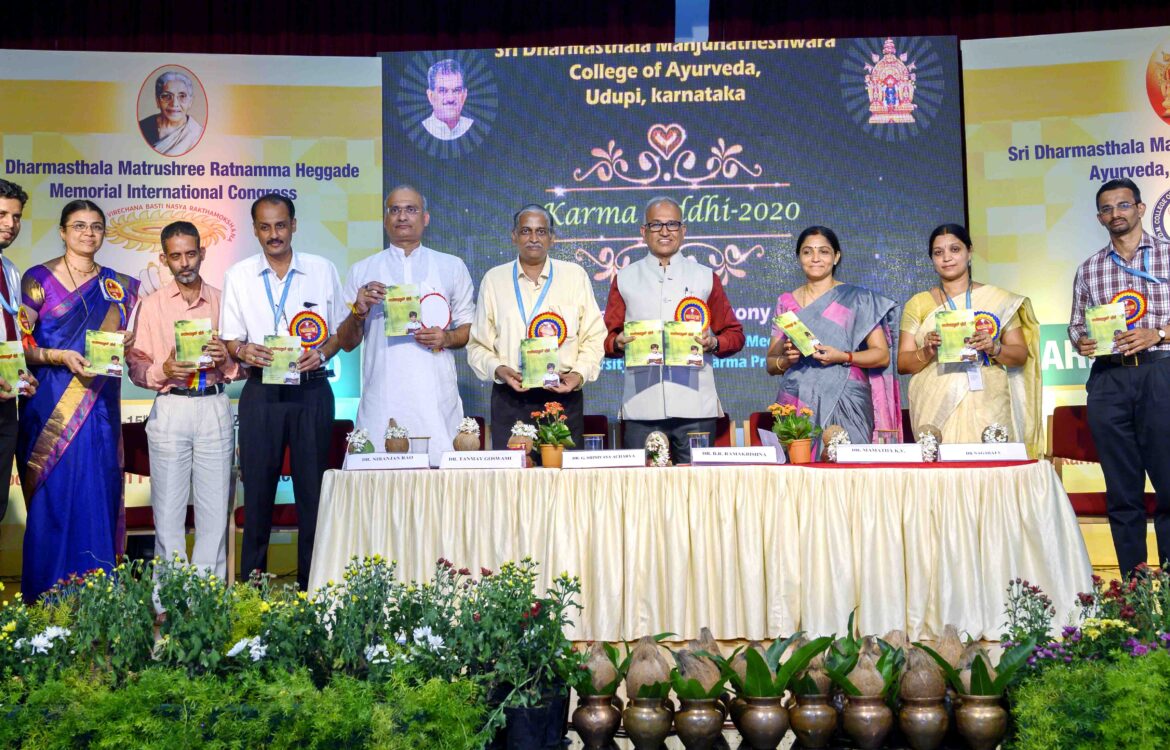 Valedictory Ceremony of Karma Siddhi
Karma Siddhi – 2020 – Valedictory function report
The Valedictory ceremony of Sri Dharmasthala Mathrushree Rathnamma Hegde Memorial International Congress Karmasiddhi 2020 was held recently in Bhavaprakasha auditorium of SDm College of Ayurveda, Udupi.
Dr. B,R, Ramakrishna, Honorable Vice Chancellor, S-Vyasa Yoga University, Bengaluru and Vice President, CCIM, New Delhi was the chief guest of the function and Dr. Tanmay Goswami, Member, CCIM, New Delhi was the guest of honour.Dr. G. Srinivasa Acharya, SDMCAH, Udupi presided over the ceremony. Dr. Mamatha K.V., Dr. Niranjan Rao, Dr. Nagaraj S, Dr. Shrikanth P.H., Dr. Chaithra Hebbar graced the occasion. The programme began with invocation by post graduate scholars.Dr. Shrikanth P.H. organising Secretary Karma Siddhi 2020 welcome the gathering.Dr. Shrilatha Kamath T gave a brief report of 3 days of the International Congress and announced the best paper award winners.Dr. Ashok Kumar B.N. announced the prizes to winners of essay, painting, mobile photography and naming the vana and run SDM competitions and winner of logo designer and title suggester of Karma Siddhi 2020.
The books Äyushman Bhava by Dr.Shrilatha Kamath T., Dr. Aniruddha, Dr. Shailesh Y and Project Book by Dr. Mohammed Faisal, Dr. Shrikanth P., Dr. Niveditha Shetty were released on this occasion. bïhief guest of function Dr. B.R. Ramakrishna address the gathering and told that Dedication to ones profession itself is karmasiddhi. Felicitation was done to Dr. B.R. Ramakrishna, Dr. Hejmady Srinivasa Acharya, Dr. U.N. Prasad and Dr. Shreekanth U. Dr. G. Srinivasa Acharya delivered the presidential address. Dr. Chaithra Hebbar organising Secretary Karma Siddhi -2020 thanked one and all for the grand success of the International Congress Karma Siddhi – 2020. Dr. Rakesh R.N. and Dr. Likhita D.N compered for the programme.