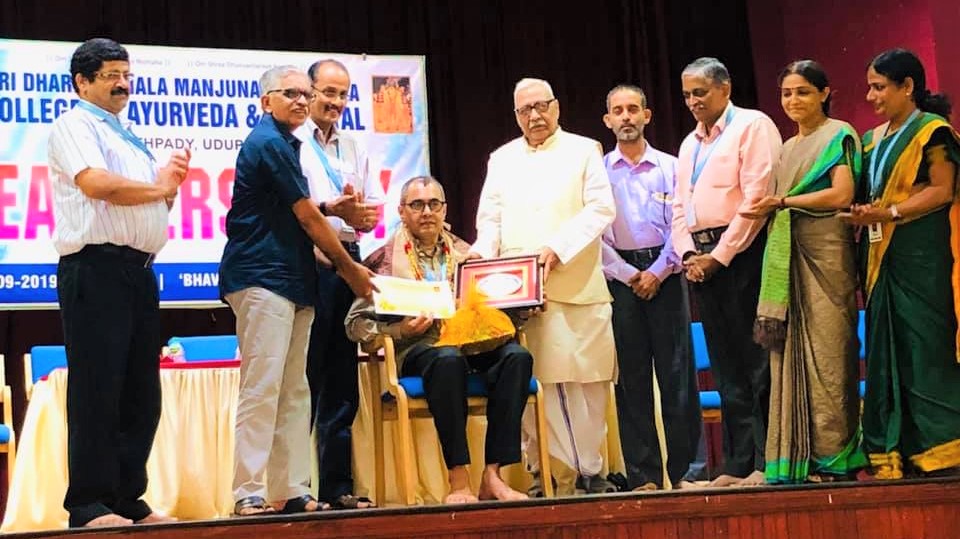 TEACHERS' DAY CELEBRATION
Teachers' day celebration was conducted at SDM college of Ayurveda, Udupi on 5/9/2019 at Bhavaprakasha auditorium. Welcome address was given away by Dr. Niranjan Rao, Dean PG and PhD studies SDMCA Udupi. The function was also attended by dignitaries Dr. G Shrivinvas Acharya, Principal, SDMCA Udupi, Dr. Nagaraj S, Associate Dean, PG and Ph.D Studies, Dr. Mamata K.V. , Medical Superintendent S.D.M Ayurveda Hospital Udupi, Dean UG studies Dr Suchetha Kumari, Associate Dean UG studies Dr. Veerkumar.K.
Dr. Mamata KV shared her memories with teacher and former principal Dr. UN Prasad Sir. A letter of honour was read by Dr. Sucheta Kumari Dean UG studies and on behalf of institution he was felicitated. Dr. UN Prasad addressed the gathering highlighted the importance of gurupoorinma and the value of teachers.
Dr. Shrikanth PH, HOD, Department of Samhita and Siddantha shared his experience about teacher Prof. Subrahmnaya Bhat P, Associate Professor at our Institution since 28 years and he was awarded with "The Best Teacher award" .
Padamshree Dr. Prof Ramachandra Pandey, Retired President, Dept. of Jyothirvijnana, Banaras Hindu University was the chief guest of the function who addressed the gathering on the virtues of a good teachers and highlighted the importance of Jyothirshastra in Ayurveda. Presidential address was given by Principal Dr. G Shrinvasa Acharya stressing on the importance of students in making a better teacher. The function was concluded with vote of thanks by Dr. Nagraj S, Associate Dean, PG and PhD studies.
Dr. Likhita D.N. and Dr. Ravi K.V. compered the programme.