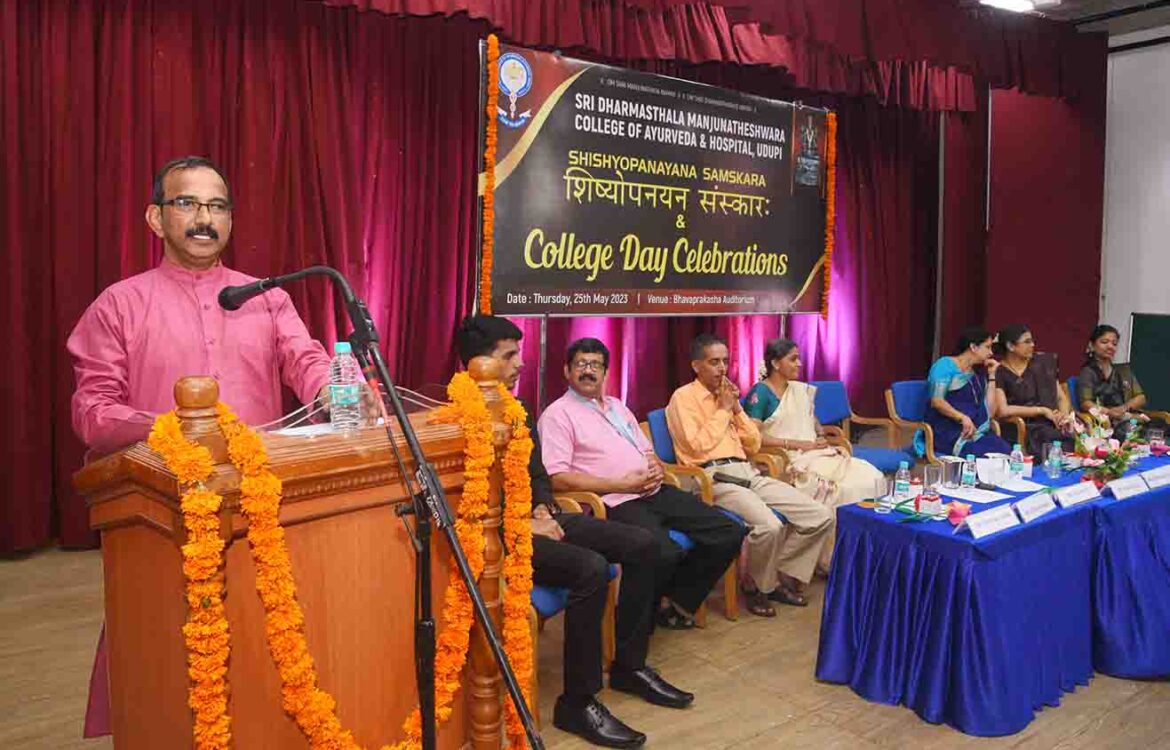 SHISHYOPANAYANA & ANNUAL COLLEGE DAY
The 24th Shishyopanayana ceremony of Sri Dharmasthala Manjunatheshwara Ayurveda College commenced with the holy Dhanvantari Homa in the morning in the presence of students, teachers, and staff members. The Head of the Institution, Dr. Mamatha K.V President of the program, delivered her presidential address by wishing the students who have taken oath to make proper utilisation of the resources of the institute & fulfil their dreams of becoming a good physician. Dr. Prasanna N. Rao, the Principal of S.D.M college, Hassan expressed his words and said that Ayurveda is gaining global recognition and called upon the students to take up Ayurveda as their subject and carry forward research in this field with dedication toward the science.
Dr. Shailaja U, Vice-Principal of S.D.M college, Hassan appreciated the students and teachers who had excelled in academic and extracurricular activities. Dr. Nagaraj, Medical Superintendent S.D.M Ayurveda Hospital, Udupi welcomed everyone, stating that the ceremony of Upanayana (sacred thread ceremony) will enrich the value of the students. Dr. Shrilatha Kamath, the Dean Academics, delivered oath to the students. Dr. Veerakumar K, Dean Administration, read out the annual report.
Dr. Ashok Kumar B.N, Dean P.G & Ph.D studies & Dr. Rajanish V. Giri, Dean UG Studies presented both PG & UG Proficiency prizes & sponsored prizes. Dr SR Moharer, Professor & H.O.D Department of Kriya Shareera presented Sports Proficiency Prizes & Dr. Poornima A, Assistant Professor in department of Dravya Guna presented Overall championship in sports, cultural & literary events.
Ms.Shrinidhi S Shetty, General Secretary student council read out the student union council report. Dr. Pallavi Poojary, PG representative read out the best wishes received for the event. Mr.Vinayak Joish, President of the student union, delivered the vote of thanks. Dr. Mahalakshmi M.S, Assistant Professor in the Samhita Department, and Dr. Shubha P.U, Assistant Professor in the Agadatantra Department, were the master of ceremony for the event. Dr. Vijayendra Bhat, Dr. Likitha D.N, and Dr. Arun Kumar were the co-ordinators of the event. Following this was the cultural program, titled "Ankura" and "Sambhrama."