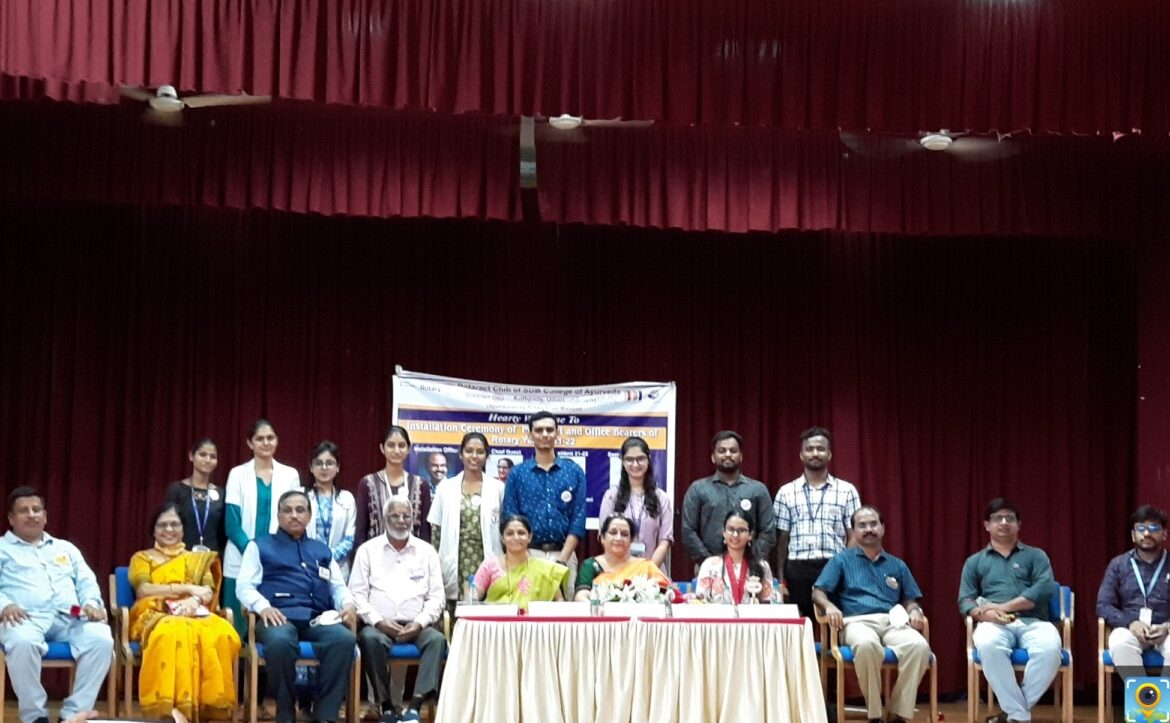 Installation Ceremony Of Office Bearers Of The Year 2021-2022
On September 9 2021, Sri Dharmasthala Manjunatheshwara College of Ayurveda and Hospital,Kuthpady, Udupi celebrated the installation ceremony of new office bearers of Rotaract Club of the year 2021-2022. The program started with collaring the Charter President and Charter Secretary by sergeant at arms followed by installation of the new office bearers by Rtn. Dr H J Gowri.
Youth service director Rtn. Prashant Hegde led the ceremony with the oath taking.The program was preceded by Rtn. Dr H J Gowri who gave an insight regarding the services and the responsibilities of the present office bearers.The President of Rotary Club Manipal Dr Virupaksha Devaramane, DRR Rtn Gladson Kunder, Chairperson Rtn. Shashikala Rajaverma enlightened the members of the club regarding the aims and objectives the club has to follow as a whole so as to promote integrity, goodwill and peace.
Presidential address was delivered by Dr Mamatha K V, Principal SDMCAU.Installation ceremony concluded by Secretary Rotary Club Manipal – Rtn. Rahiman S A.The orientation session was later carried by Rtn. Dr. Suresh Shenoy AG Zone-IV and Rtn Renu Jayaram, vocational service director, RC Manipal on Personality Development encouraging the youth.
Dignitaries, Zonal Lieutenant Rtn. Amit Nayak, Dr. Sharashchandra, Coordinator Rotaract Club SDMCAU,
Charter President Suhas BG, Charter Secretary Rahul Jajee, President Ms. Ayudha K and Secretary Ms. Fathima Naseera Rotaract Club SDMCAU and members of the Rotary Club Manipal and Rotaract Club SDMCAU were present.