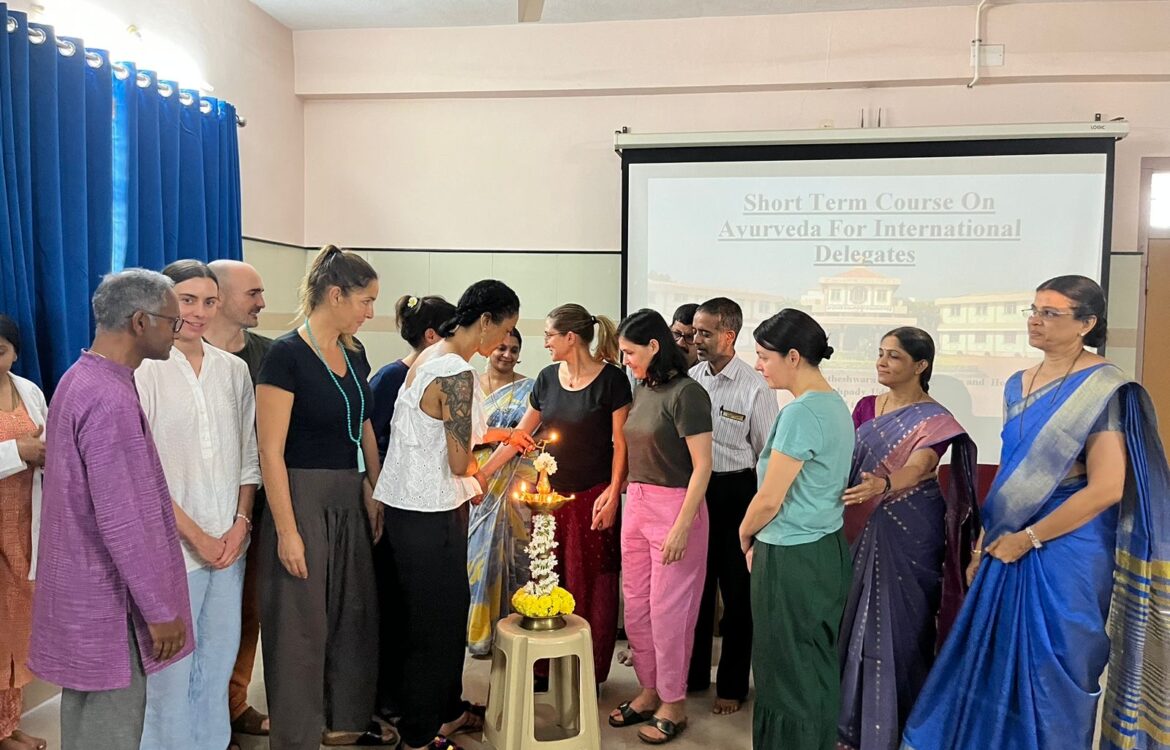 INAUGURAL CEREMONY OF THE SHORT-TERM COURSE ON AYURVEDA FOR THE INTERNATIONAL DELEGATES
SDM College of Ayurveda, Udupi initiated a short-term course on Ayurveda for the International delegates in the month of November and its inaugural session was held on 7/11/2022 at 9.15 AM in the esteemed presence of Dr. Mamatha KV, Principal of SDMCA Udupi who inaugurated the ceremony by lighting the lamp.
The occasion was chaired by Dr. Nagaraj S, Medical Superintendent, SDMAH Udupi, Dr. Shrilatha K Kamath, Head of Kayachikitsa Department, also the Chairman of the program and Dr. Veerkumara K. Dean of UG studies.
The short term course is designed by SDM College of Ayurveda and Hospital, Kuthpady Udupi for the delegates from AHIMSA foundation, France following the MOU between the two institutions and the aim of the course being to spread the knowledge of Ayurveda to the possible extent in France and globally.
During her keynote address , Dr Shrilatha Kamath introduced the delegates with the course scheduleand expressed that along with Ayurveda the delegates also should visit famous places of Udupi so as to gather the knowledge of local customs and traditions as well. Dr. Mamatha K V. in her presidential address told that the Alumnis of the Institution are serving in AHIMSA foundation in France and this shows the participative role of institution to spread Ayurveda globally. Dr. Nagaraj S. kindled the fire of quest during his speech in the delegates.
Dr.Chaithra Hebbar Head of the Agada tantra department and Dr Sharon Sebastian, Assistant Professor Dept. Of Prasoothi Tantra and Streeroga welcomed the gathering and vote of thanks was by delivered by Dr. Arunkumar Associate Professor Deot of Roganidana. Dr. Saritha. T. Assistant Prof. Dept of Roganidana.SDMCA Udupi was the Master of the ceremony. Dr Archana Shukla, Dr Aparna K., Dr Gayathri Hegde, Dr Rashmi H.C coordinated.