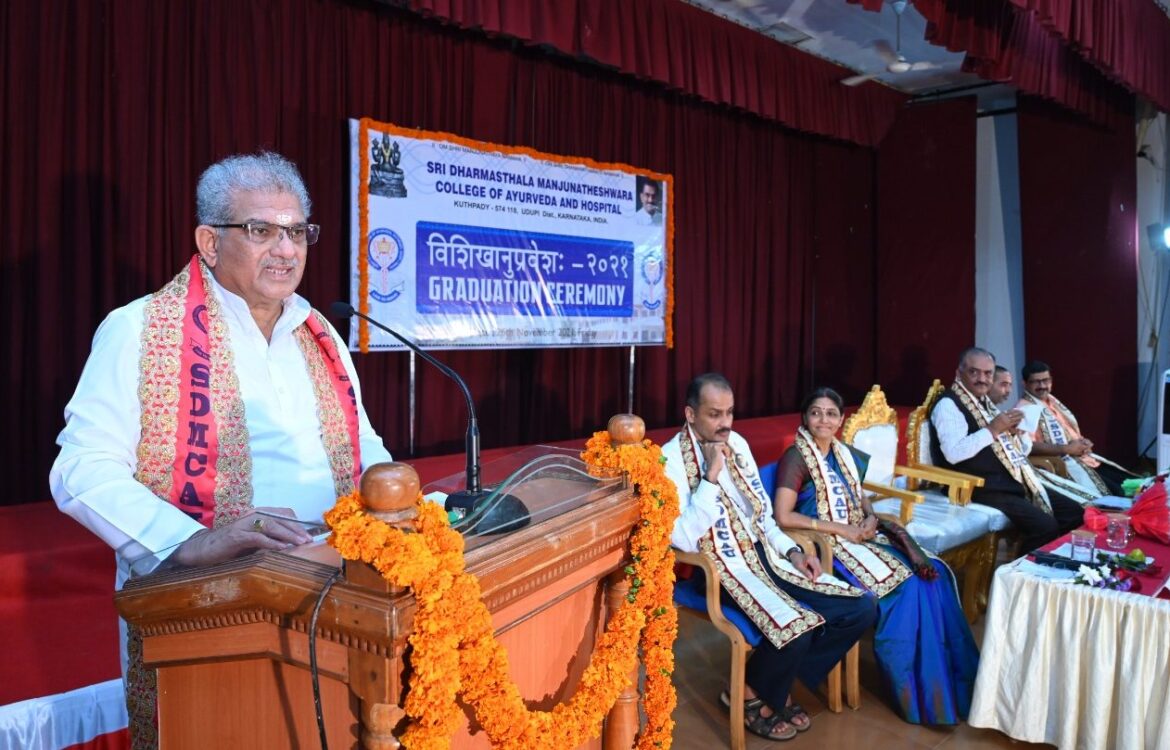 Annual Graduation Day
26th November,2021, Udupi: Though number of girls graduating Ayurveda are more than boys, the general clinical practice among girls is low. The Ayurveda institutions should train the graduates in this perspective said president, Board of the Ethics and Registration for Indian System of Medicine, NCISM, New Delhi, Vaidhya Rakesh Sharma in the graduation ceremony- "Vishikaanupravesham" held in Bhavaprakasha auditorium, SDM College of Ayurveda, Kuthpady, Udupi on 26th November, Friday.
Ethical practice
Ayurveda, is the ancient science of life, which was created along with the world. There is lot of demand for the graduates, also there are many opportunities in present day. Ayurveda plays major role in maintaining the health or the country. The proper balanced right diet should also be focused on. One should ethically practice the science for the goodness of society.
Eradication of diseases
The president of the program, Dr D. Veerendra Heggade, Chancellor, Sri Dharmasthala Manjunatheshwara University, Dharwad, spoke on the occasion and highlighted the need of Ayurveda in healing the diseases and making the world healthy.
The graduates should practice and adapt Ayurveda only, after their studies and should use the new technologies in developing the science and globalizing it.
Dr Pratima Poudel and Dr Megha, were awarded gold medals for their excellence in the academics by SDM Educational Institution. Principal, SDM College of Ayurveda, Udupi, Dr Mamatha KV, gave oath to all 187 Undergraduate, Postgraduate and Doctorate Scholars.
Dean PG and PhD studies Dr Niranjan Rao, Associated Dean PG studies Dr Suchetakumari, UG Dean Dr Veerakumara and Associate UG Dean Dr Chaithra Hebbar called the students to receive the graduation certificate. Medical Superintendent, SDM Ayurveda Hospital, Dr Nagaraj S, delivered vote of thanks. And the program was hosted by Dr Nivedita and Dr Arun kumar, Assistant professors, SDM College of Ayurveda, Udupi.