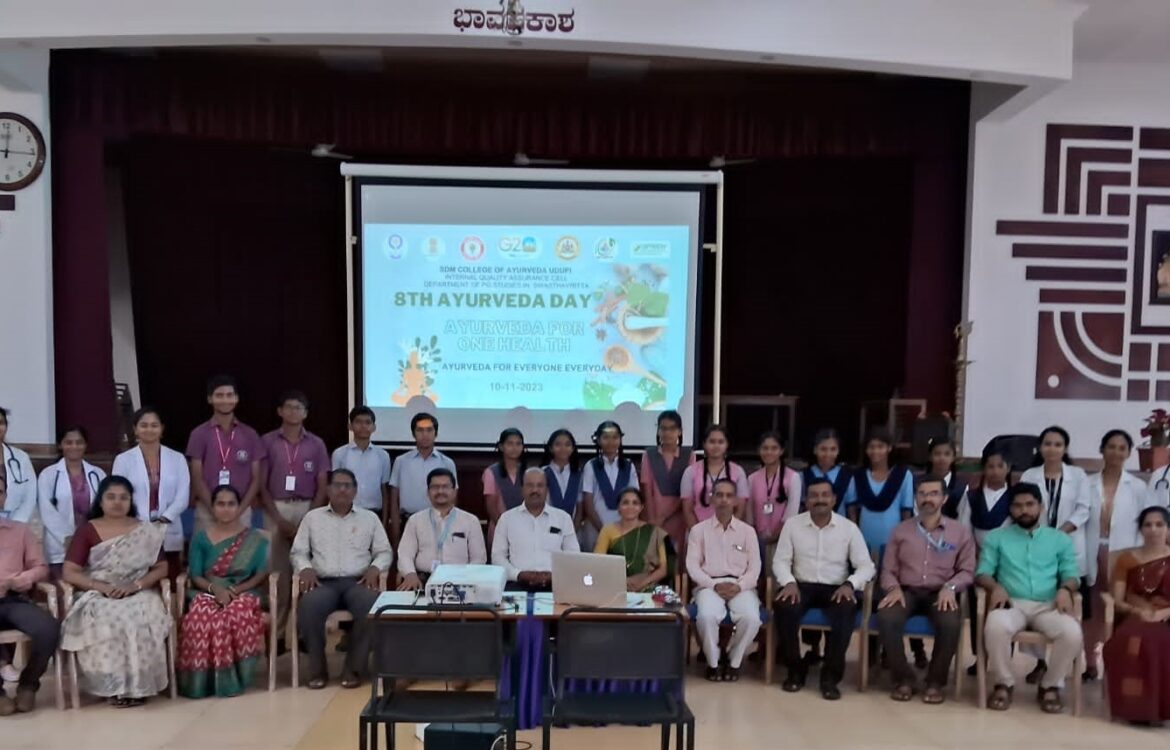 8th Ayurveda Day celebration- Ayurquiz
Sri Dharmasthala Manjunatheshwara College of Ayurveda Udupi celebrated 8th National Ayurveda Day on 10.11.2023. On the occasion of Dhanvantari Jayanti, Ayurveda day observance was started with an Ayurveda quiz competition (Ayurquiz) which was conducted for high school students of Udupi and Brahmavara zone. Different schools participated in quiz competition. Government Girls' Highschool Udupi (1st Place), Government Joint High School Belapu (2nd Place) and Dr. TMA Pai Highschool Kalyanapura (3rd Place) won the competition respectively.
Stage function was presided by Dr. Mamatha KV, Principal, SDMCA Udupi. In her presidential address, she spoke about the importance of National Ayurveda Day and the activities to create awareness of Ayurveda among school children in the coming days. She said that Ayurveda and Yoga are complementary for the all-round development of children. The chief guest of the program Dr. Nagaraj S, Medical Superintendent, SDM Ayurveda Hospital Udupi, spoke about the importance of Ayurveda in daily life. He called upon the students to learn about Ayurveda right from their student life and adopt it in their future life. Dr. Vijay B. Negalur, Head, Department of Swasthavritta welcomed the gathering and spoke about the theme of National Ayurveda Day 2023- Vasudaiva Kutumbakam- Ayurveda for One Health. Prizes were distributed to the winners of Ayurquiz competition which was organized by Dept. of Swasthavritta in association with Green Remedies.
Dr. Yogeesha Acharya, Associate Professor read the report of Ayurveda Day programmes and competitions. Dr. Sandesh Kumar, Associate Professor proposed vote of thanks. Dr. Sowmya Bhat, Assistant Professor was the master of the ceremony. The student welfare officers of the college Dr. Ashok BN (Dean PG and PhD Studies), Dr. Rajaneesh V. Giri (Dean UG Studies) were present on the dias.
As a part of National Ayurveda Day programmes- Health Awareness talks, Health Checkup Camp, Environmental Study and Community Health Survey was carried out by Ayurvedic Doctors in various schools, colleges and organizations in and around Udupi. A national level "Charaka Manthana" online quiz competition and a logo design competition was organized for Ayurveda students. Students of SDMCA Udupi (1st and 2nd place) and Sri Sri Ayurveda College Bengaluru (3rd place) were the winners of quiz competition. On the same occasion Dept. of Dravyaguna conducted Plantation of medicinal plants and guest lecture programs for plant conservation in various schools.