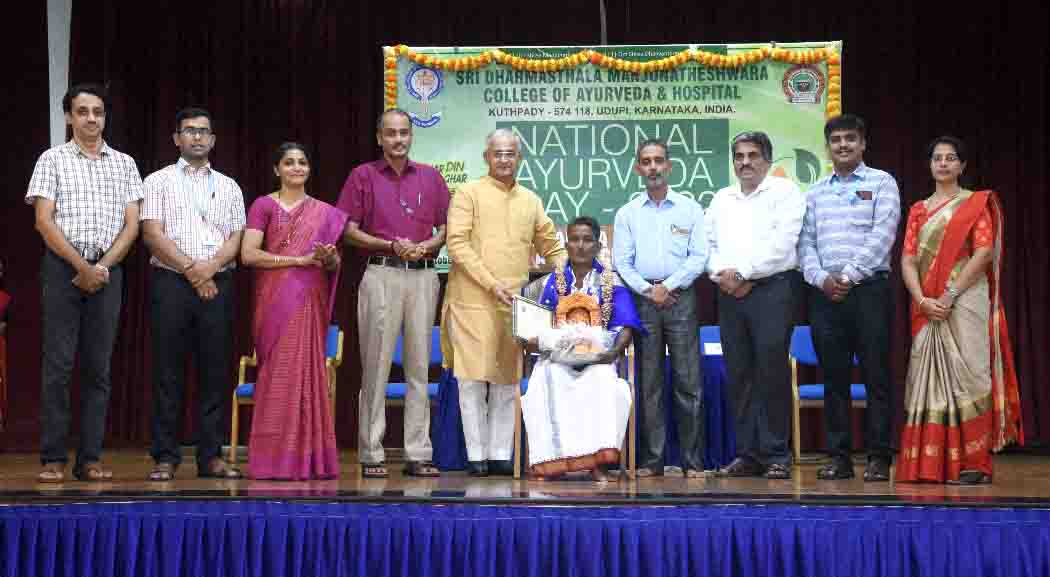 7th National Ayurveda Day Celebration
Date
– 22/10/2022
Venue
– Bhavaprakasha auditorium
Purpose
– As a part of 7
th
National Ayurveda day celebration
As a part of 7th national Ayurveda celebration with the motto 'Har Din Har Ghar Ayurveda' was celebrated in a grand manner at Sri Dharmasthala Manjunatheshwara Ayurveda College and Hospital . Dr. Nagaratna S.J , Member of Folk Medicine Research Center was the host for the Program .Afterwards Dr.Niranjan Rao, Dean of Post Graduate Department of the College welcomed, Principal Dr. Mamata K.V , Medical Superintendent of the hospital Dr. Nagaraj S, chief guest Captain Ganesh Karnik , SDM General Manager of Ayurvedic Medicine Manufacturing Unit Dr. Muralidhar Ballal . The program was presided over by Principal Dr. Mamata K.V by addressing in her presidential address as "Ayurveda is the culture of life and it should be a rite ". Captain Ganesh Karnik, who participated as the chief guest, said, "Man should live with nature". Also he added for today's era habit , Ayurvedic lifestyle is very complementary. "Better health is possible with Ayurveda" in detail he said.
On this occasion, the president of our organization and the deacons of Sri Kshetra Dharmasthala, Parampujya Dr. D. Veerendra Heggade, as per the wish and guidance of "Folk Medical Research Center" of our college had honoured Shri Ram Manja Marathi, a folk physician by giving Rs.25,000/- in cash and a citation for receiving the National Award "Janapada Vaidyasiri – 2022" .
With the motto 'Har Din Har Ghar Ayurveda', ten programs was organized for a month and report was presented by Dr. S. R. Mohrer ,Head of Physiotherapy Department. An Ayurvedic song titled 'Nidire' was released by the College's Department of Arts and Culture. More than 100 health-conscious people have changed their irregular lifestyle after hearing the program..
The entire program was presided over by Dr Ravikrishna S, Head of Folk Medicine Research Center of the Institute and conducted by other members Dr. Arhant Kumar, Dr. Ravi KV and Dr. Sushmita VS.