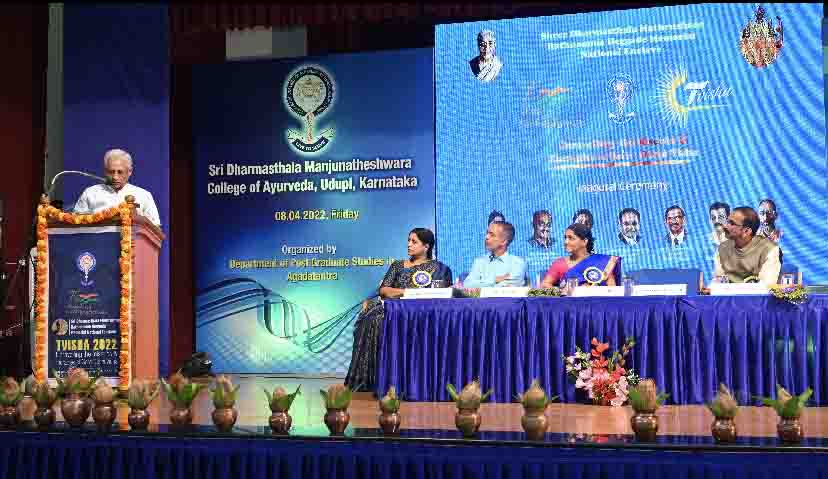 Tvisha 2022 National Conclave
Shri DharmasthalaMatrushreeRatnammaMemorial National Conclave Tvisha 2022 was organised by Department of AgadaTantraIn Sri DharmasthalaManjunatheswaraAyurveda Medical College Kuthpady, Udupi on 8-4-2022, Friday.
The national conclave was inaugurated by VaidhyaJayanthDeopujari, Chairman NCISM (National council of Indian system of medicine). He spoke regarding thenecessity of changes in the field of Ayurveda System of Medicine and the need of research& globalization of Ayurveda. D PrasannaN Rao,Principal Sri DharmasthalaManjunatheshwara Ayurveda Medical College and Hospital, Hassan unveiled the e-souvenir DASHAMI 2022, and spoke regarding thealumni of SDM institute and their are role in spreading Ayurveda globally.The program was presided by Dr MamathaK V, PrincipalSri DharmasthalaManjunatheswara Ayurveda Medical College, Udupi and addressed on the role of Ayurveda students and doctors in reaching the science to every corner of population. The vision of reaching Ayurveda to every school and college under the scheme of "Azaadi Ki AmruthMahotsav" was commendable.
Dr. Nagaraj S. Medical Superintendent SDM Ayurveda Hospital, Udupi welcomed the gathering and Dr ChaithraHebbar, chief organising secretary delivered vote of thanks.Dr Arun Kumar, associate professor Department of RogaNidanaDr Nagarathna S J, associate professor Department ofKaumarabhrtya, hosted the program.
The chief guest of valedictory programDr U N Prasad, former principal SDM College of AyurvedaUdupi, spoke how the body is getting deteriorated by the environmental toxins, the diseases caused by them and themanagement of these effects by the Ayurveda system of medicine. Dr MamataK V,  principalSDM College of AyurvedaUdupi delivered presidential address and spoke regarding the exposure to various chemicals by food articles, cosmetics etc. and effective management through Ayurveda. Dr Nagaraj S,  medical Superintendent, SDMAyurveda Hospital, Udupi was also present in the program. The report of the national conclave was read by HODDepartment of medical statistics and research,DrPadmakiran.Dr Veerakumar, Dean UG student welfare welcomed to the gathering and Dr ShrinidhiR, associate professor department of AgadaTantra, organising secretary delivered out of thanks.The program was hosted by DrRekhaPatil, final year PG scholar and miss Naseera,  final year UG student.