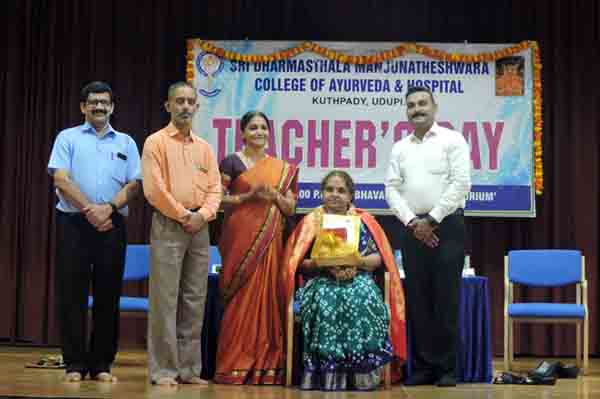 TEACHERS' DAY CELEBRATION 2022
Teachers' day celebration was conducted at Sri Dharmasthala Manjunatheshwara college of Ayurveda, Udupi on 5/9/2022 at Bhavaprakasha auditorium.
The program was presided by , DR Mamatha K.V. Principal, SDMCAU, Udupi. The event was also graced by the dignitaries DR Nagaraj S. Medical Superintendent, SDMAH, Udupi, Dr. Veerkumar.K. Dean UG studies, Dr Vidya Ballal Associate professor Department of Prasuthi tantra and Stree roga, DR Vijay B Negluru HOD Department of Swasthavrittha. On the auspicious occasion of teachers day felicitation was done to Dr Devasya Narayana Sharma former HOD Department of Kaumarabhrithya, on behalf of institution A letter of honor was read by Dr. Vijay B Neglur. Dr Vidya Ballal Associate professor department of Prasuthi tantra and stree roga, was bestowed with TEACHER OF THE YEAR AWARD 2022 later addressed the gathering on the virtues of a good teachers and sharing their experiences in the campus.
Dr.Prasanna Mogasale, Department of Roganidana shared his experience about teacher Dr Devasya Narayana Sharma.DR Ramadevi and Dr Sharon from Department of Prasuthi tantra and stree roga shared their memories with Dr Vidhya Ballal.
Medical superintendent Dr Nagaraj S. gave a speech thanking and appreciating all the teachers for their hard work and dedication for helping the institution to achieve new heights and also released trailer of the song " Olleya Maatu" prepared by the students to reach the concept of Ayurveda to everyone. President of the function Dr. Mamatha KV highlighted the importance of GuruPoorinma; the value of teachers and stressing on the importance of students in making a better teacher. Welcome address was given away by Dr. Kavya Assistant professor Department of Kaumarabhrithya. Dr Thejaswi I Naik Assistant professor Department of Dravyaguna Vijanna read brief introduction of awardee.The function was concluded with vote of thanks by Dr Rakesh R N , Associate Professor Department of Shalya Tantra.
Dr. Sushma Assistant professor Department of Shalakya tantra compered the programme.