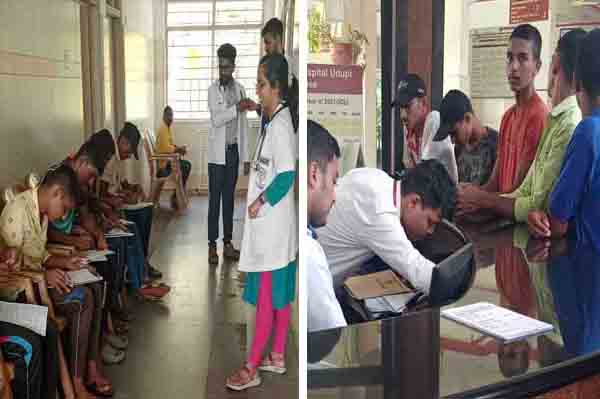 Medical check – up for Agnipath aspirants
As per the request from the Team Nation First (R), Udupi, the NSS Unit of our Institution has organized Free Medical Checkup for the aspirants of Agnipath in SDM Ayurveda Hospital, Kuthpady, Udupi on 23/08/2022, with the co-ordination of following departments and consultants.
Department
Consultants
Kayachikitsa
Dr. Vijayendra Bhat
Dr. Anirudh
Dr. Shrividya
Shalya Tantra
Dr. Jayakrishna Nayak
Shalakya Tantra
Dr. Gayathri Hegde
Dr. Sushma
Medical Superintendent, Dr. Nagaraj S, Hospital Manager Mr. Nagesh C H have provided all the necessaries to organize the camp. Heads of the respective departments, Dr. Shrilatha Kamath (Kayachikitsa), Dr. Rajneesh V Giri (Shalya Tantra), Dr. Gayathri Hegde (Shalakya Tantra) have support in the examination of the patients in the OPDs. Dr. Yogeesha Acharya, NSS co. officer helped in receiving the campers. Free OPD registration was done from the Hospital for all the beneficiaries and a special proforma was prepared as per the criteria of Agnipath selection from the NSS Unit and examination was done, filled proforma was given to them.