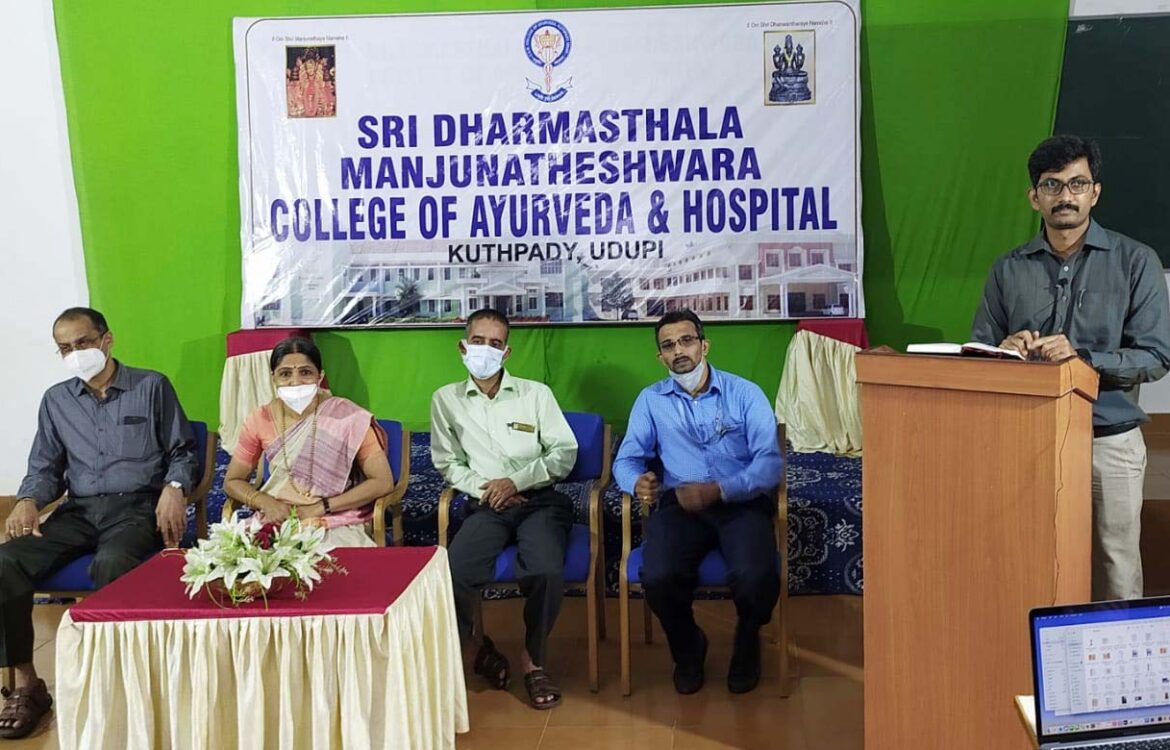 Charaka Sambhasha
Inauguration of Samhita Chanting Programme
Sri Dharmasthala Manjunatheshwara College of Ayurveda & Hospital, Kuthpady, Udupi has organized 'Charaka Sambhasha' an online Samhita Pathana programme on 29.07.2021. Programme was organized in collaboration with Department of AYUSH, Govt of Karnataka, Vishwa Ayurveda Parishad, Karnataka Division and Government Ayurvedic Research Centre, Mysuru. The event was held in connection with Charaka Jayanti celebration.
The Charaka Jayanti celebration was inaugurated by Dr. B. S. Prasad, President, Board of Ayurveda, NCISM, New Delhi. He told studying the Samhita is very essential. Samhita chanting and interpretation of the Samhita plays an important role. Every Ayurvedic scholar should get used to it. Dr. Jayakara Shetty, Vice-Chancellor, RGUHS, Bangalore has inaugurated the Charaka Sambhasha programme and said that Charaka Samhita is an important treatise for the students of Ayurveda. The guest of honour Dr. Sridhar B.S., Joint Director, Department of AYUSH, Karnataka has said it is the best practice of studying the Ayurveda through Samhitas. This will help everyone to understand Ayurveda in a better way. One of the guests, Prof. Yogesh Chandra Mishra, Organizing Secretary of Vishwa Ayurveda Parishad, congratulated the institute for taking up such academic interest activities. He had given stress on the necessity of studying Charaka Samhita which provides a strong foundation for understanding the hidden meanings.
The inaugural event was chaired by Dr. Mamatha K.V., Principal, SDM College of Ayurveda & Hospital, Udupi. She said that students are constantly reciting the Samhita in the institute since a month. This event will further help the PG scholars of our institute to get good insight of Samhita as after each Pathana, resource persons are giving the deliberations. Dr. Niranjan Rao, Dean, PG & PhD studies and Dr. Nagaraj S., Medical Superintendent, SDM Ayurveda Hospital were present in the programme. Dr. Lakshminarayana Shenoy, Assistant Director, Govt Ayurvedic Research Centre, Mysuru welcomed the guests. Dr. Shrikanth P.H., Organizing Secretary, Charaka Sambhasha delivered the vote of thanks. Dr. Arun Kumar moderated the programme. Dr. Vijayendra Bhat, Dr. Yogeesha Acharya, Dr. Nishanth Pai, Dr. Arhanth Kumar, Dr. Sandesh Kumar Shetty, Dr. Srinidhi Dhanya B.S. and Dr. Sadananda Bhat contributed to the success of the programme. PG scholars of the institute recited the shlokas of first chapter of the Charaka Samhita. That was followed by interpretation by Dr. B.R. Ramakrishna, President, Vishwa Ayurveda Parishad, Karnataka.