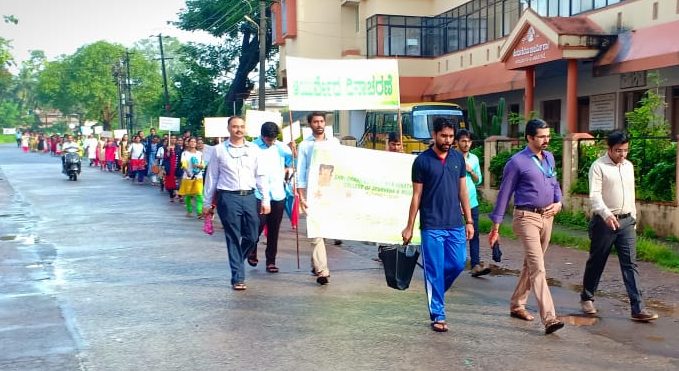 Ayurveda Walk for Arogya
In account of Ayurveda Day, SDM College of Ayurveda Udupi organized a rally named Ayurveda Walk for Arogya (health) on 25th of October. The procession began by rendering reverences to the Dhanwantari statue at the college at 8 AM and proceeded until Udyavara. Even amidst rain, the entourage consisting 15 students and faculty members managed to create effective awareness regarding Ayurveda through placards and slogans. Police force of Kaup was extremely helpful through the procession.
The event proceeded to a discourse on future of Ayurveda delivered by the HOD and faculty of 'Karyachikitsa' department, Dr. Shreelatha Kamath T, General Manager of SDM Ayurveda Pharmacy Dr. Murlidhar R, HOD and faculty of 'Shalyatantra' department Dr. Rajneesh V, and Asst.Prof of 'Dravyaguna' department Dr.Suma V Mallya.