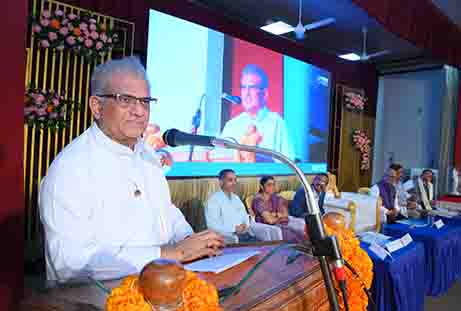 Alumni Meet "Prajyothi – 2023"
The Alumni association of SDM College of Ayurveda, Kuthpady, Udupi has organised the alumni meet – "Prajyothi -2023" on Sunday 5th November 2023.
On regard to this occasion, a CME was organized on the topic 'Clinical Application of Rasaoushadhis in General Practice' by Dr. Gopikrishna, Alumnus 1994 Batch, Srinivasa Clinic Bellary. Co-founder, Indian Institute of Ayurveda and Rasashastra an e-learning Online Institute.
The president of the program Dr. D Veerendra Heggade, President, SDM Educational Society Ujire inaugurated the function by lightning the lamp. The principal Dr. Mamatha KV, Dr. Prasanna N. Rao, Principal, SDM College of Ayurveda, Hassan, President of Alumni association Dr. Bharatheh A, Vice president Dr. Narayan T. Anchan, Secretary Dr. Mohammed Iqbal, Medical Superintendent Dr. Nagaraj S were the honourable dignitaries on the dias. The gathering was welcomed by the principal Dr. Mamatha K.V.
Dr. Bharathesh A, in the introductory speech recollected the personalities behind the development of this institution and praised the efforts of Dr. D Veerendra Heggade to revive the essence of Ayurveda beyond its limits and the purpose of Alumni association to enhance the networking opportunity.
As a gesture of honour, the Chirantana batch of academic year 1984 -1989 performed Guruvandana to Former Professor of Roganidana Department, SDMCA Udupi, Prof B.V. Prasanna. It is followed by the release of Alumni Privilege card by the president. Later, Dr. Vyasaraj Tantry, member of Alumni association briefed the report of annual activities conducted by Alumni Association.
Felicitation of individual patrons and the senior Alumnis who sponsored Prajyothi 2023 were honoured. The Alumni association sponsored the scholarship to meritorious students.
Dr. D Veerendra Heggade, President, SDM Educational Society Ujire in the presidential address conveyed the intention of making alumni association meet as to cherish the old memories, to bond with the new generations. He emphasized on the providing affordable quality health care facilities for patients by SDM Ayurveda hospitals and he also assured of recommending central government to include Ayurveda treatment procedures under the scheme of Ayushman Bharath.
Dr. Prasanna N. Rao, Principal, SDMCAH, Hassan in his gratitude speech highlighted achievements of SDM alumnis in different fields across the globe.
Dr Mohammed Iqbal, Secretary, SDMCA Udupi Alumni Association delivered the vote of thanks and expressed his special gratitude towards the Principal and the Staffs of SDMCA Udupi for the co-operation and successful conduction of the programme. Various cultural programmes were performed by alumni's.
Dr. Arun Kumar M and Dr. Shubha P. compered the programme.