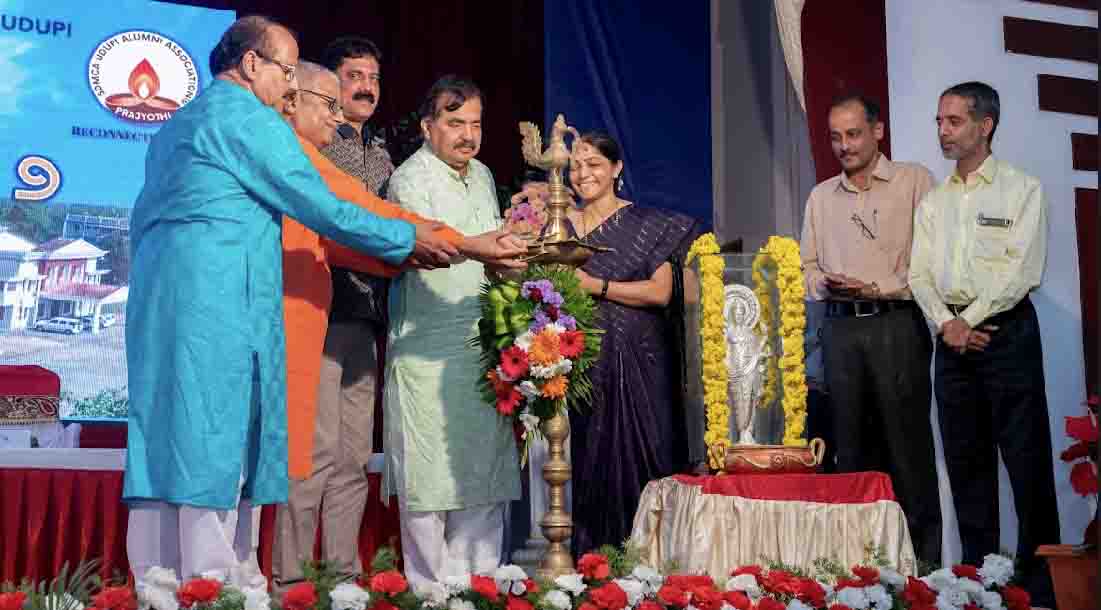 Alumni Meet – 2022
The newly formed alumni association of SDM College of Ayurveda, Kuthpady, Udupi has organised the alumni meet – "Prajyothi -2022" on Saturday 19th November 2022. On regard to this occasion, a CME was organized on the topic 'Clinical Application of Marma Chikitsa' by Dr. Ajayan S, Professor and Head, Dept. of Dravyaguna Vijanana, Asthanga Ayurveda Vidyapeet, Vavnur, Palghat.
The chief guest Dr. Mohan Alva, President, Alvas Education Foundation, Moodabidri inaugrated the function by lightning the lamp. The principal Dr. Mamatha KV, President of Alumni association Dr. Bharatheh A, Vice president Dr. Narayan T Anchan, Secretary Dr. Mohammed Iqbal, Medical Superintendent Dr. Nagaraj S, Dean PG and PhD studies Dr. Niranjan Rao were the honourable dignitaries on the dias. The gathering was welcomed by Dr. Mohammed Iqbal. Dr. Bharathesh A, in the introductory speech recollected the personalities behind the development of this institution since time known.
Dr. Mohan Alva, in his guest speech praised the efforts of Dr. D Veerendra Hegade to revive the essence of Ayurveda beyond the limits and for making SDM a reknowned brand globally. As a gesture of honour, the Chirantana batch of academic year 1984 performed Guruvandana to Former principal, SDMCA Udupi, Prof UN Prasad, Former HOD, Dept. Of Shalakya  Tantra Prof Marideva Sharma.
Guruvandana was followed by the release of Textbook entitled – Nidana Prakash A textbook of Roga Nidana and vikriti Vigyan" authored by Dr. Gopikrishna S Acharya, Professor Department of Roganidana SDMCA Hassan by chief guest. Later, felicitation of patrons and the senior alumnis who sponsered prajyothi 2022 were done. Dr. Mamatha KV in the presidential address conveyed the intention of this alumni meet as to cherish the old memories, to bond with the new generations, to share the experiences and Madam also said that she expect the same gathering to be held in the forthcoming years.
Dr. Narayan T Anchan delivered the vote of thanks and expressed his special gratitude towards the Principal and the Staffs of SDMCA Udupi for the co-operation and successful conduction of the programme. Dr. Kavya and Dr. Rakesh compered the programme. Dr. Preethi Hegde and Dr. Pavana invocated the function.